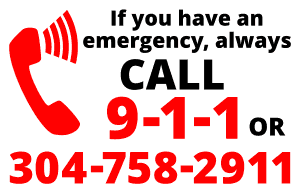 Tyler County E911 is for the purpose of providing 911 service to citizens and visitors, as well as the central dispatching of first responders. Tyler E911 is also responsible for mapping and addressing efforts within the County. Tyler county E911 has 7 employees.
Agencies Served
The following Tyler County agencies are served by the Tyler County E911 center:
Fire Departments
Shirley V.F.D.
Middlebourne V.F.D.
Alma V.F.D.
Sistersville V.F.D.
Fire Departments
Sistersville EMS
Middlebourne EMS
Sistersville Fire EMS
Law Enforcement
Tyler County Sheriff Office
Sistersville Police Dept.
West Virginia State Police
WV DNR
WV DOT
Josh Fulks
Director
James Slider II
Supervisor
Jared Lantz
Angela Swanberg
Mary Huff
Jason Wayne
Liz Pavilisin

Mailing Address:
Tyler County E911
P.O. Box 7
Middlebourne, WV
26149
Office Address:
Tyler County E911
121 Court Street
Middlebourne, WV
26149
Emergency Calls: 911
Non-emergency Calls: 304-758-4275
Fax: 304-758-4800
Email: tylercodisp@frontier.com